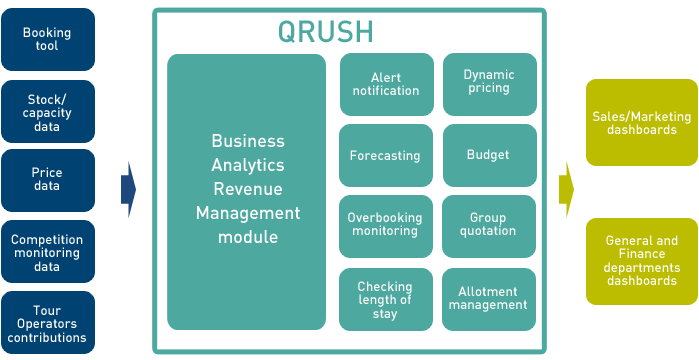 The QRUSH web platform, developed by EURODECISION in close collaboration with its client TOHAPI*, provides Pricing and Revenue Management teams in the tourism and hotel industry with the keys to taking the best decisions and managing their prices and capacity.
QRUSH now manages approximately 80 000 accommodation units (campsite pitches, mobile homes, chalets, self-catering accommodation, residences) and covers several million bookings in Europe.
QRUSH was built on the business knowledge that our consultants have acquired over the course of their Pricing and Revenue Management assignments. It is the embodiment of our desire to synthesize this hands-on experience by instilling it with EURODECISION's particular quantitative vision. With its forecasting and optimization algorithms, QRUSH enables users to forestall demand, to build dynamic pricing strategies to late or early bookings and to balance customer demands on the basis of their real contribution to overall income.
The challenges faced
We created QRUSH to support small and medium accommodation providers in their Revenue Management skills development process. It centers on data and the men and women who interpret them. QRUSH is designed to provide "views" that will guide analysts' decisions rather than "black box" decision dispensers.
QRUSH provides key Revenue Management indicators graphically and multi-dimensionally, while incorporating advanced mathematical tools to guide decision-taking.
QRUSH is an operational tool for daily use by Revenue Management analysts, but above all it is a Business Analytics platform that matches up booking data with stock data and financial data. Traditional hotel sector revenue management KPIs (RevPAR, Occupancy Rate, Average Price, etc.) and sales trends (Pick-up, Buildup) are valuable for everyday use, but QRUSH can also be used for auditing Revenue Management activity and recommending quick-wins to marketing teams.
Target
Revenue Management analyst teams of the hospitality industry (hotels, holiday centers, accommodation networks, etc.)

Sales forces (to help with sales quotations and pricing special offers)

Administrative and Financial Management (to help breakdown the budget and monitor its alignment)

Operational Management (to optimize the schedule)
Why choose our platform?
The platform can be delivered in SaaS mode to its clients' sites:
a crossover approach to the various Revenue Management universes (booking, stock, budget)

full web access

multi-device access (tablets, smartphones)

the strength of its Business Analytics technology making for instant zoom in on any dimension of the supply and the demand, and their crossover points, despite the millions of booking data being processed

complementary customizable modules and bespoke developments that make it a scalable solution 

EURODECISION consultants can act as outsourced Revenue Managers on an ad hoc basis or over time through the platform to give operational teams the backing they require

the thinking behind the platform is to offer flexibility and easy configuration in universes with original revenue optimization levers such as: camp sites, self-catering accommodation or Bed & Breakfast, holiday residences or clubs, unconventional hotels and travel agencies
Main features
Its QlikView graphic interface makes the QRUSH Business Analytics for Revenue Management platform particularly flexible and customizable. It covers most of the feature and indicators required by revenue optimization analysts:
absorption of booking, stock and budgetary data

key indicator dashboard (e.g.: sales situation, occupancy rate, REVPAR, booking buildup, etc.)

multi-criteria filters (e.g.: period, geographic zone, sales channel, accommodation unit, discount levels, etc.)

drilldown to zoom in on the dates to be watched and focus the analyst's attention

targeted alerts to guide analysts and arrange their monitoring processes

forecasts and unconstrained forecasts by date/site/accommodation type/length of stay 

additional analytical modules:
criticality alerts (site/date heat maps)
recommendations and monitoring overbooking

recommendations and monitoring short- and long-stay quotas

help creating rate schedules

recommendations and monitoring rate category quotas

exceptional group and package quotations (Bid Price approach)

analyses of tour operators' contribution (Bid Price approach)

recommendations to increase or decrease rates in response to the pressure of demand

budget simulator by occupation date/date of sale/site/accommodation type 

optimizing allotment sales

optimizing the reallocation of inter-site capacity 
*TOHAPI : consumer brand of the Vacalians Group (formed by the merger of the Village Center and Vacances Directes groups). TOHAPI is a leading European outdoor accommodation provider that distributes mobile homes, chalets and camping pitches, with 20 000 accommodation units all told over more than 300 camp sites in France, Italy and Spain.